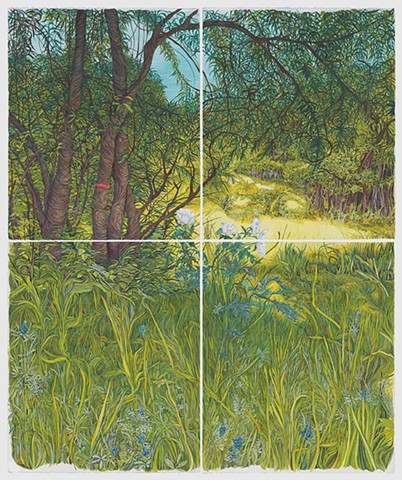 Ponca Street
mixed media on four separate sheets of cotton rag paper, framed as one artwork
80x64", framed
2017
$12500
Ponca Street is a special location on the East side of Austin in the Montopolis neighborhood which is rich in history predating Austin as a city. This particular spot is on property owned by dear friends of mine. They have deliberately kept it a little wild, it's natural beauty giving and changing with the season's. This is Spring, just as the bluebonnets begin to fade and are taken over, in turn, by hardier natives like the Texas Prickly Poppy at the center of the piece. The artwork is intentionally divided into quadrants, echoing the delineating lines which divide parcels of land in this neighborhood which is now in full gentrification mode. My aim was to capture this moment in time and to honor it's vigorous beauty.
Prints available. Pigment inkjet giclee on archival, cotton rag paper, signed and limited to editions of 50.
Sizing variable, please inquire.